Atlantis IT has more than 20 years of experience in the field of GPS tracking systems for all types of vehicles. Among our clients are some of the most
important vehicle fleets in the country as well as in the whole world. As we are huge fans of technology and obsessed with providing it for our clients and adapting it to their needs, constant evolution to improve and offer real solutions is part of our DN
A.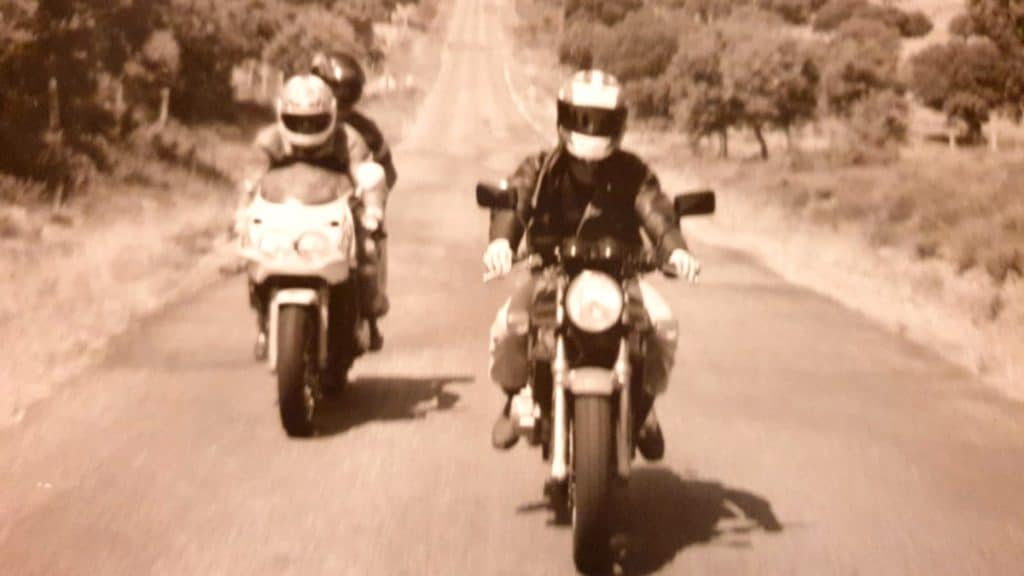 At the beginning of 2015, we decided to launch AtlantisMOTO
thanks to technological advances that have reduced both the size and energy consumption of GPS tracking systems, and the fact that mobile communication technologies are now more affordable. But AtlantisMOTO was born long before its official release date,
we could say that it has been developing in our minds at Atlantis IT for more than 15 years. But, as bikers, we know that theft is the number one concern for all bike owners and that many potential solutions have been tested and failed before being able to
offer a product that provides a real solution to this problem at last.
If you are a biker, you or so
meone you know is bound to have experienced the misfortune of having their motorbike stolen. Personally, I, the author of this text, have had my bike stolen twice. And I remember them as the worst experiences of my life. Having anything stolen from you is
an awful experience, but it is especially hard when it is your motorbike as it is also your source of freedom, enjoyment and being able to travel wherever you want that has been taken from you. Perhaps I was more affected by the experience as it happened w
ith my first two bikes and at the tender age of 18, but that experience for an electronics student awakened the need to combine what I like the most (motorbikes) with the profession I was training for.
Constant evolution is in our DNA as a company, always striving to improve and offer real solutions to our clients 
As I mentioned in previous paragraphs, I have tried many, many, many things over the years. And I understand why alarm systems have not worked until now and have always been something that no workshop or mechanic wanted to
recommend. When Atlantis IT was founded, more than 20 years ago, we started working seriously, on a real and functional solution for an alarm system with GPS tracker that could be available to any biker. In these years, technology has advanced so much tha
t what at first took months and even years to develop and test, can now be renewed and improved in weeks.
Atlantis IT develops each and every one of the
applications and systems that it uses in its products, while other companies simply re-label p
roducts and market them as their own. For us, having the ability to create something specific and in constant evolution is one of the distinguishing features of AtlantisMOTO. We believe that this is what customers want when buying something new: a product
that is constantly improving or expanding with new features.
AtlantisMOTO grows and improves, (always with safety in mind…) not only with our motorbike experience, but also with yours. The fact that we integrate things that
you ask of us or improvements that you suggest, makes AtlantisMOTO a bit of everyone. This philosophy we continue to live by. There is no end to our ideas and our desire to offer the best possible service. We can always offer something else, something th
at makes you feel comfortable with AtlantisMOTO and that gives you a new way to enjoy your motorbikes. Because there are as many types of bikers as there are bikes.
AtlantisMOTO is the spin-off of Atlantis IT, with its own software engineering and product development, based in Barcelona. Designed by and for bikers to develop a unique solution focused on the safety, location tracking and connection of the biker community through a GPS device, a linked app and exclusive content on biker routes.
Our purpose is to create IOT solutions focused on mobility, that are practical, useful and that offer advantages, not only economically, but also socially and environmentally.
Atlantis IT develops each and every one of the applications and systems used in its products
Our values such as shared value, teamwork, rapid responses, honesty, satisfaction, trust, innovative culture, commitment and adapt
ability are reflected in our day-to-day actions.
At Atlantis IT we work in an environment based on good manners, respect for our culture and the world we live in, promoting the best version of ourselves.
Aware of the world in which we live, we work on the
SDGs approved by the United Nations, developing actions that promote innovation, lifelong learning, social inclusion and respect for biodiversity, specifically for the conservation of seas and oceans in a sustainable way.
Thank you for being part of our family, we hope to live up to your expectations, if not, let us know and we wil
l do everything we can to make sure you are content with AtlantisMOTO.